home > Company Profile
Information
Company Name
UNICO CO.,LTD
Address
926-3 Asona Bizen Okayama Japan, 705-0032
Contact
TEL
+81 869 67 1435
FAX
+81 869 67 3156
E-mail
(Sales)
info@autousedengine.com
E-mail
(Rep)
info@unico.jp
E-mail
(Recruit)
masalee@unico.jp
Foundation
January 1st, 1987
Capital
JPY 20 million
Yard
33,000 square meter
Our business
Used Engines, Used Parts, Used Cars, Trucks, Dumps, Buses at container size.
Certification
ISO14001
CSR
We assist Japanese Red Cross Society, UNICEF, AMDA.
Website
http://www.unico.jp/
http://www.unico-parts.jp/
Mission Statement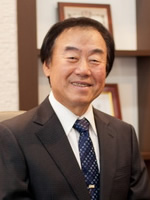 A Representative Director
Masaichi Kimura
"BE PLEASED"
Uesd Auto used engines - Which just look like to be scrapped -. We wanted to work with something valuable, creative jobs in order to link to reuse, recycle of resource. We really hoped that all the people in the world must reuse them as to be much helpful. Finally, we established this company "UNICO".
We started to gather high quality used engines, inspect them, fix them if neccessary, and rejeuvenate them, have been exporting them.
Many kinds of people in countries - such as developping, caring for old or used, said that they want to have these from "UNICO in JAPAN".
Through moderate recycling activity of used and helpful vehicles for global environment, we are serving things to be pleased to all over the world. This is the company's, staff's "JOY" from our pride by thinking all the people who give us compliments.
From the point of view at expanding our recycling business to the future, we UNICO continues to consider global economy, environment, community, and comply with social responsibility, to a goal for "pleased" company.
We challenge to creative a company managed in stability with our staff and their families, in full of dreams and hopes, - BE PLEASED -.
Junkyard of Used Engines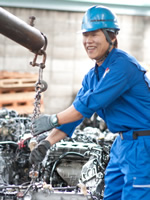 It is shouted by being there.
Caught mind
He was there, left alone in a dark corner amid the smothering smell of steel and oil. Do you hear him saying, Why am I left here? I should be running free in the open under the blue sky." Can you imagine how he feels being abandoned? You've done your job and there you go," and he was discarded.
His name is Auto Used Engine. Built tough, he used to run all over Japan with his mighty power. He used to carry people and loads to places, or run just to see the beautiful scenery. He was happy doing what he was so good at.
His mileage shows 100,000 kilometers. He was born to run 300,000 kilometers and two thirds of his energy is still left inside. He also went through strict inspections every other year. He is still in top condition and telling us, I'm sure I can still work !
The answer of recycling was found.
Auto Used Engine becomes scrap if you leave him there. That's his destiny. Isn't it too early to die? He could live much longer than that ! What if we recycled auto used engines? Saving resources is the way of the future. That's how we started UNICO, a meaningful business.
CSR Activity