home > Quality Control and Loading
Quality Control & Loading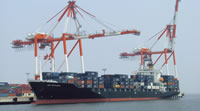 Please see our collecting, store, inspection and loading flow to keep the high quality goods. Our goods cannot ship out without 3 step quality inspections.
Please look forward our goods arrives at your place.
1.COLLECT USED ENGINE & CAR
3-5 purchasing sales person carry on business to collect used engine & car.
They make a business visit to most of west area of Japan.
Our first inspection carry on at field site.

2.STOCK YARD
The goods store proper location under ceiling to prevent rain and rust.
All the engine from used car is taken one by one out with qualified mechanic.
The plywood and angle rafter prevent a damage of small parts.
These action appear our goods quality.
The second inspection carry on this time.

3.INSPECTION & QUALITY CONTROL
Our qualified and expert mechanic's give a hard look goods so that we keep high quality control.
Please ask our quality control. We have a lot of option according to customer's demand.
The third inspection carry on this time.

4.LOADING
All the container use plywood and blue seat to prevent damage and oil leaking.
We arrange any kind of container like 20ft, 40ft DRY and OPEN top and so on.
Our qualified staff carefully load your goods to pay attention any damage, even though mold, damage and dirty during ocean freight, before goods arrives at your place.
You definitely are satisfied our loading quality control which you have never seen heretofore.